Nursing Master's and Doctoral Degrees
---
You always see nurses when you visit the doctor's office. They might check you in for an appointment or collect diagnostic samples or data before the doctor appears. However, nurses perform many more functions in healthcare than might be commonly perceived. Nurses work in the ER to help stabilize trauma victims, they work in a wide range of surgical theaters, and their specialties are as vast as doctors.
For that reason, nurses often seek graduate degrees to further their careers into specialty areas such as pediatrics, cardiology, or oncology, among many others. If you achieve a master's degree, you can work as a nurse practitioner and run a clinic, under the license of a medical doctor of course. With a doctoral degree you can continue working as a clinician or you might shift into research and the academic life.
Nursing Degrees & Career Paths
---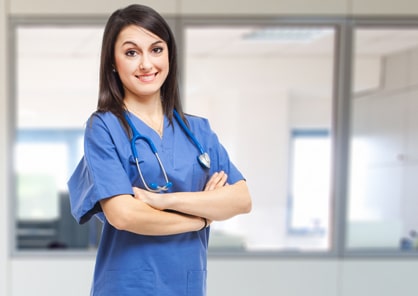 Difference between a Master's and Doctorate Nursing Degree
One of the chief distinctions between MSN and doctoral nursing degrees is their relative emphasis on the clinical side of nursing. The MSN and its related certifications all focus on the practice of nursing and medicine. Along the way to your graduate degree, you will spend time in clinic, practicing skills and applying knowledge from class.
Once you move onto the doctoral level, you are less likely to spend as much time in the clinic. Rather, you might move into a more administrative position, where you will guide clinical practice according to your expert knowledge and assessment of research. Other doctoral nursing degree holders work in research labs to help advance patient care. However, DNP nurses tend to remain in the clinical sphere where their deep understanding of research informs their nursing practice.
Read More