What Does a Plumbing Career Entail?
---
Plumbers work with systems that carry water, wastes, and natural gas to and from homes, buildings, or other types of structures. In residential settings, they handle water, gas lines, waste systems like toilets and septic disposal. In commercial construction, plumbers can work as contractors or parts of a subcontractor crew. They can take on substantial parts of the gas and water system installation. Plumbers can handle finishing work such as sinks, toilets, tubs, and fixtures.
Plumbers can work as employees of specialized plumbing companies or as part of a broader type of repair or construction company. Many plumbing professionals work full or part-time as independent businesses. In any capacity, they must keep abreast of technological changes and revisions or additions to codes, business regulations, and consumer rules. When licensed, plumbers must maintain all requirements including refresher courses and continuing education. Plumbers can establish local reputations for excellence and create a high demand for their services. A career in plumbing can be well-paid and exciting. It is a people-oriented business in terms of dealing with clients, customers, and coworkers.
Vocational Trade School & Career Paths
---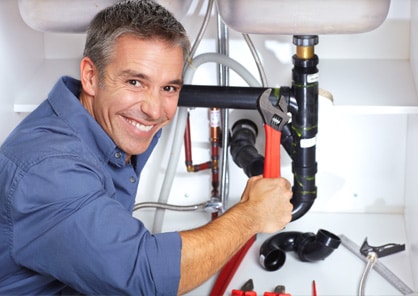 Components of A Successful Plumbing Career
A plumber needs hard skills such as technical plumbing skills and knowledge that come from high-quality education and a period of apprenticeship or other types of supervised training. Most plumbers work three to four years under supervision before working independently. University Headquarters understands that, in addition to the hard skills, there are soft skills that contribute to a successful plumbing career.
Listening skills are essential for plumbers that must work with customers, clients, and other professionals. The ability to listen is a foundational skill for learning about a situation and developing solutions.
Plumbers must be able to think critically. They must assess problems and develop solutions. They must also communicate their ideas to other people in clear and understandable terms.
Physical strength is part of the requirements for a successful plumber. However, while some pipes and materials are quite heavy, plumbers do not need to be exceptionally strong. They do need to be fit, have good conditioning, and have dexterous hands. Lifting, bending, and stretching is part of the job. Plumbers may have to work in small or cramped spaces and at awkward angles.