Get Matched With Software Engineering Programs
Earning a bachelor's degree in software engineering can allow students to enter a challenging career. If the student is, by nature, curious and has the ability to solve tricky problems, this career may be an excellent choice.
In an online software engineering bachelor's degree program, students learn both technical skills and programming; they may also learn object-oriented language and scripting. Their professors will help them compile a portfolio which shows their ability to code, helping them to find employers who are interested in hiring them after they graduate.
Software engineers often use their skills in collaboration with other computer science professionals. This means that those with project management and analytical thinking skills may find themselves to be more successful than those without these skills.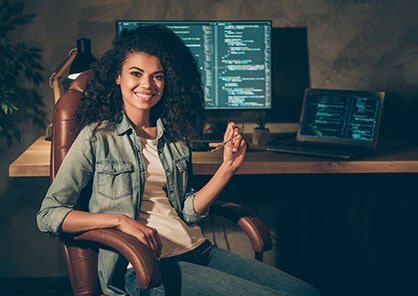 Requirements of a Bachelor's Degree?
Software Engineering bachelor's degrees are usually earned after a student has graduated from high school, though some students are able to attend a college after earning a GED. Associate degrees may make it easier for students to gain admittance, but bachelor's degrees are more accepted in the working world as proof that you have what it takes to succeed in your chosen profession.
High school graduates aim to be accepted into a four-year college or university which offers degrees in the field in which they want to work, such as software engineering. After filling out and submitting a college application, which may include writing an essay, students are usually accepted to at least one college or university. Some universities may require future students to take entrance exams, such as the ACT or SAT, though these are falling out of favor somewhat.
Read More
Compare Popular Online Software Engineering Programs
What are the Best Online Bachelor's in Software Engineering College Programs?
---
1
Washington State University
Tuition

In-State: $12,417
Out-of-State: $27,733

Net Price: $11,877
Acceptance Rate: 86%
Retention Rate: 81%
Graduation Rate: 60%
Total Enrollment: 29,843
Undergrad Students: 24,278
Graduate Students: 5,565
Diplomas Awarded:31
Grads Salary: $77,000
Student-to-faculty: 15:1
2
Arizona State University
Tuition

In-State: $11,348
Out-of-State: $29,438

Net Price: $14,934
Acceptance Rate: 88%
Retention Rate: 86%
Graduation Rate: 66%
Total Enrollment: 77,881
Undergrad Students: 64,716
Graduate Students: 13,165
Diplomas Awarded:43
Grads Salary: $75,000
Student-to-faculty: 18:1
3
University of Missouri
Tuition

In-State: $11,475
Out-of-State: $30,450

Net Price: $18,249
Acceptance Rate: 77%
Retention Rate: 88%
Graduation Rate: 73%
Total Enrollment: 31,401
Undergrad Students: 23,696
Graduate Students: 7,705
Diplomas Awarded:NA
Grads Salary: $71,000
Student-to-faculty: 18:1
4
Penn State World Campus
Tuition

In-State: $14,338
Out-of-State: $14,338

Net Price: $24,012
Acceptance Rate: 92%
Retention Rate: 87%
Graduation Rate: 72%
Total Enrollment: 88,914
Undergrad Students: 73,476
Graduate Students: 15,438
Diplomas Awarded:16
Grads Salary: $78,000
Student-to-faculty: 15:1
5
Western Governors University
Tuition

In-State: $7,452
Out-of-State: $7,452

Net Price: $10,336
Acceptance Rate: 100%
Retention Rate: 63%
Graduation Rate: 64%
Total Enrollment: 150,116
Undergrad Students: 107,952
Graduate Students: 42,164
Diplomas Awarded:NA
Grads Salary: $77,000
Student-to-faculty: 42:1
6
Ferris State University
Tuition

In-State:$12,740
Out-of-State: $12,740

Net Price: $13,624
Acceptance Rate:85%
Retention Rate: 77%
Graduation Rate: 48%
Total Enrollment: 10,361
Undergrad Students:9,248
Graduate Students: 1,113
Diplomas Awarded:NA
Grads Salary: $69,000
Student-to-faculty: 15:1
7
Saint Cloud State University
Tuition

In-State: $9,170
Out-of-State:$18,010

Net Price: $13,615
Acceptance Rate:94%
Retention Rate: 62%
Graduation Rate:47%
Total Enrollment: 10,774
Undergrad Students: 8,956
Graduate Students: 1,818
Diplomas Awarded:20
Grads Salary: $73,000
Student-to-faculty: 16:1
8
Saint Leo University
Tuition

In-State:$26,050
Out-of-State: $26,050

Net Price: $18,336
Acceptance Rate: 71%
Retention Rate: 57%
Graduation Rate: 46%
Total Enrollment: 9,523
Undergrad Students: 6,740
Graduate Students: 2,783
Diplomas Awarded:1
Grads Salary: $74,000
Student-to-faculty: 16:1
9
Kennesaw State University
Tuition

In-State: $6,436
Out-of-State: $17,690

Net Price: $18,245
Acceptance Rate: 82%
Retention Rate: 74%
Graduation Rate: 49%
Total Enrollment: 42,899
Undergrad Students: 38,891
Graduate Students: 4,008
Diplomas Awarded:78
Grads Salary: $67,000
Student-to-faculty: 22:1
10
South College
Tuition

In-State: $17,335
Out-of-State: $17,335

Net Price: $12,271
Acceptance Rate: 100%
Retention Rate: 64%
Graduation Rate: 38%
Total Enrollment: 5,796
Undergrad Students: 4,598
Graduate Students: 1,198
Diplomas Awarded:NA
Grads Salary: $69,000
Student-to-faculty: 20:1
11
Colorado Technical University
Tuition

In-State: $12,581
Out-of-State: $12,581

Net Price: $17,286
Acceptance Rate:100%
Retention Rate: 44%
Graduation Rate: 23%
Total Enrollment: 24,016
Undergrad Students: 21,161
Graduate Students: 2,855
Diplomas Awarded:NA
Grads Salary: $89,000
Student-to-faculty: 30:1
12
Liberty University
Tuition

In-State: $22,713
Out-of-State: $22,713

Net Price: $27,891
Acceptance Rate: 99%
Retention Rate: 79%
Graduation Rate:62%
Total Enrollment: 94,709
Undergrad Students: 47,696
Graduate Students: 47,013
Diplomas Awarded:1
Grads Salary: $60,000
Student-to-faculty: 17:1
13
New England Institute of Technology
Tuition

In-State: $32,807
Out-of-State: $32,807

Net Price:$34,721
Acceptance Rate: 68%
Retention Rate: 56%
Graduation Rate: 49%
Total Enrollment: 1,907
Undergrad Students: 1,739
Graduate Students: 168
Diplomas Awarded:NA
Grads Salary: $72,000
Student-to-faculty: 11:1
14
Southern New Hampshire University
Tuition

In-State: $15,380
Out-of-State: $15,380

Net Price: $21,502
Acceptance Rate: 92%
Retention Rate: 62%
Graduation Rate: 39%
Total Enrollment: 145,533
Undergrad Students: 121,884
Graduate Students: 23,649
Diplomas Awarded:NA
Grads Salary: $67,000
Student-to-faculty: 24:1
15
Middle Georgia State University
Tuition

In-State: $4,042
Out-of-State: $11,389

Net Price: $10,926
Acceptance Rate: 99%
Retention Rate: 55%
Graduation Rate: 22%
Total Enrollment: 7,843
Undergrad Students: 7,457
Graduate Students: 386
Diplomas Awarded:NA
Grads Salary: $63,000
Student-to-faculty: 18:1
Where Do You Earn a Bachelor's Degree?
---
Students who plan to earn their bachelor's degrees go to college to do so. These four-year colleges and universities can be public or private; it will be important for students and their families decide which school they will attend based on the attributes and qualifications of each educational institution. Some colleges and universities offer online degrees. Indeed, this is becoming more and more common as education catches up with technological innovation.
Search Programs Offering Software Engineering Majors
One thing to be aware of is that smaller community colleges may not have options for earning full four-year bachelor's degrees. You may still attend and earn a software engineering associate degree that can prepare you to earn a bachelor's at a higher-level public institution in your state, but you must ensure that all of your credits will transfer before you start down that path. If you complete your associate degree but then find that the credits won't help you earn a bachelor's, you may end up wasting a lot of time and money.
Choosing a school, earning admission, and choosing a major are all important steps for students who want to succeed. Students don't have to make all these decisions before they begin completing college courses but, once they get through their freshman and sophomore years, it will be important to start planning for their career. Students may set a goal to earn a degree which offers them a lucrative career or they may focus in on their interests so that they are certain they will enjoy their profession. No matter how you plan to make this decision, earning a bachelor's degree can give you everything you need to succeed.
Online Vs. Traditional Education in Software Engineering
---
The rhetorical push-and-pull between a traditional, on-campus bachelor's degree and its online counterpart is still going on, despite evidence that many colleges and universities offer high-quality programs through both formats. In fact, when it comes to computer-focused degrees, such as software engineering, programs already have a leg up in using an online platform for their learning. Students in these programs are already immersed in a virtual world where they learn a majority of what they must know to succeed. Still, it's important for students to be aware of their options before they make a decision about what type of degree program they will attend.
In the traditional, or on-campus version, students either live on-campus or they commute to the campus to attend classes in-person. A traditional format may better suit students who do better with immediate feedback from their professor and fellow students. Or it may work better for those students who are outgoing and willing to engage in a classroom environment. There are also students who realize that, for one reason or another, they are not suited to online learning. When it comes to hands-on activities, taking part with fellow students may give them the mental push they need to go to each class and participate, especially if they want to earn their degree in software engineering. The more social environment of a classroom may help them stay motivated to attend and continue to learn.
On the other hand, an online software engineering degree may be attainable or even preferrable for students who adjust well to the distance-learning concept. These students may be creative thinkers who have multiple interests in mathematics, chemistry, programming, coding, and network systems. Online degree programs still allow students to participate in classes, design software engineering projects, and benefit from software development experience but they do not require students to attend synchronous or in-person courses.
What are the Admission Requirements?
---
The requirements for admission (or prerequisites) include:
High school diploma or GED
Students who have not earned college-level credits before are required to send proof of completion of high school
Transfer students must send their college transcripts from any other colleges where they earned academic credit at the university level
Community college graduates may be able to take advantage of transfer agreements with the university or universities where they are applying - To save time and trouble, they should ask if their community college has such an agreement with any university where they are applying
Applicants may have to send in a readable, color copy of their government-issued photo ID—this may include driver's licenses or, for undergraduate
SAT or ACT test scores may be required for students to gain admission – if they are required, students will likely need to have exceeded a minimum score in each section to be accepted and not have to take remedial courses in subjects such as math
Find Your Online Software Engineering Program
Students who know what degree program they want to enroll in should check with the university for any other admission requirements.
Why Earn a Software Engineering Bachelor's Degree?
---
The importance of earning a bachelor's degree has changed over the last 20 or more years. Back in the day, a bachelor's degree meant that you would stand apart from other job applicants, especially in a career field that was particularly competitive.
Today, however, many professionals (one in three) have already earned their bachelor's degrees, which makes it that much more difficult to stand out in the work force. This is part of why software engineering master's degrees increased in popularity in recent years.
This doesn't mean that a bachelor's degree has no value. Instead, it only means that a student should choose their degree program and future career more carefully. This involves assessing interests and strengths while paying close attention to future career goals. If you want to be an entrepreneur, a bachelor's degree may be sufficient or it may be just one step toward their overall career goals. Students also need to keep financial aid, grants, scholarships, and student loan debt in mind as they make their educational decisions.
For a student who plans to work as a software engineer, a bachelor's degree may be an excellent start but, as they move upward within their career, they may need to consider a master's or MBA. Doctorate degrees are more uncommon but can be helpful for those who wish to move into academia. No matter where your career ends up in the long run, it will make it much easier to move forward both professionally and educationally if you have already earned your bachelor's degree. A bachelor's gives you access to master's and MBA degrees and even prepares you for supervisory positions and tons of certifications that you can't earn with an associate degree. Keep that in mind as you consider your options.
Why a Degree in Software Engineering?
---
Students who choose a bachelor's degree in software engineering, whether it is an on-campus or online program, might be interested to know that the percentage of software engineering degrees being awarded has increased by 17.2%. Part of the reason is that this career has a number of excellent advantages for those who earn degrees.
The field is broad. Software engineers may create webpages or they may increase the network security of their employer's computer network. Other software engineers may spend days rebuilding, or building from the ground up, computer information systems.
Software engineers may also be found in just about any industry; any industry that uses software may employ software engineers. This may include non-profit organizations, healthcare facilities, and more.
The job outlook for this field is great. It has been projected to grow by 24%, which is much faster than other occupations and equals as many as 302,500 software engineers by 2026.
What's Involved in a Bachelor of Science in Software Engineering?
---
In bachelor's programs for software engineering students, they learn application development, software development, web development, database and systems administration, and more. At many universities, the curriculum for these programs is project-based, which means that discovery and learning by doing are prioritized. Project-based work also allows students to apply newly acquired knowledge, develop their teamwork skills, and gain valuable hands-on experience. Students gain proficiency in different aspects of software engineering (modeling and coding) as they practice their creative problem-solving skills and create programs to complete specific tasks.
Find Online Software Engineering Schools
Once they have their general education courses out of the way, they begin programming, systems management, and more-advanced math courses. These work together to teach students how computer systems work and how they can use them to accomplish the goals of their future clients or employers. After this, students learn to build code, programming languages, software program development, and some of the more-important cyber security concepts.
Common Courses
English
Introduction to Engineering
Principles of Programming
Object-Oriented Programming and Data Structures
Calculus for Engineers I & II
Computer Systems Fundamentals
Discrete Mathematical Structures
Computer Organization and Assembly Language Programming
Introduction to Programming Languages
Modern Differential Equations
Engineering Statistics
What to Consider When Choosing a Bachelor's Program for Software Engineering
---
Accreditation
---
Accreditation is the official recognition of a college or university's educational offerings. Institutions that are accredited include many public and private colleges, universities, vocational educational institution, online schools, and more. Along with location, cost, and available degree programs, students should add accreditation to the many important considerations they take into account before deciding which school to attend.
Accreditation proves that the school offers an up-to-date education to students that can help them succeed in their lives and careers. This recognition is unbiased because the accrediting agency has no vested interest of any kind in the educational institutions it recognizes.
Accreditation's first goal is to make sure that higher education institutions provide a high-quality education and are credible. Schools may receive either regional or national accreditation. Schools with regional accreditation might allow students to more easily transfer between schools, whereas students attempting to transfer between schools with national accreditation may have a harder time making sure their credits count toward their future degree. Online, trade, and vocational schools are more likely to have national accreditation.
Schools can also opt to earn programmatic accreditation for specific degrees or whole departments. For example, in schools with cyber security degrees often try to earn CAE accreditation, which is provided by the NSA, one of the largest employers of cyber security personnel.
Further Software Engineering Education
---
Master's Degree
---
At the master's level, a Master of Science in Software Engineering prepares graduate students to develop into professional software engineers in a variety of industries. Students benefit from both theory and practice, which helps them to develop a strong understanding of software systems far beyond the fundamentals. Students also build on their working knowledge of programming languages, and the methods and systems used in the field.
Search Programs Offering Software Engineering Majors
Before they graduate, students will have attained the skills needed to better adapt to the many rapid changes within the software engineering profession. They may also be able to more easily move up into senior management and executive positions.
MBA
---
Students who look ahead to their professional futures may choose to earn a dual MBA Software Engineering degree. By doing so, these students gain access to even more future professional advantages. This includes learning managerial, communication, and decision-making skills. Earning this type of dual degree opens professional doors that may allow software engineers to move up the ranks, becoming technology strategists and holding high-level positions in existing companies or helping to build new companies from the ground up.
In a six-semester or three-year program, software engineering students will take around 90 units of required courses, 100 units of electives, and nearly 200 MBA units. They may also choose to take at least 150 units of studio or designated courses focusing on software engineering. This is just an example of the credit requirements for these types of programs. Some programs are accelerated, allowing students to finish more quickly, and some may have lower credit hours requirements.
Doctorate or PhD
---
Software professionals who decide to earn their Doctor of Philosophy (PhD) in Software Engineering may gain big benefits for their future careers, especially if they are aiming to work in academia.
Many of these programs tailor themselves to the student's needs; students arrange courses under the guidance and approval of a graduate advisor. As the student's interests grow and change, they may make adjustments to their program. This will be a deciding factor when they choose a dissertation topic.
Graduates of PhD programs may choose to work as researchers or in academics. They may find positions as senior data scientists or software engineers and those who hold PhDs are often viewed as industry experts in machine learning, cyber security, artificial intelligence, natural language processing, and more.
Software Engineering Certification
---
Students who are looking to earn software engineering certificates may be able to take undergraduate- or graduate-level courses to achieve this goal. A graduate certificate allows a student to increase both their skills and knowledge in software engineering, allowing them to advance in their careers.
Students may choose to earn certifications in software metrics, object-oriented analysis/design, software systems architecture, or software testing and analysis, among many others. A student's certificate program coursework may also be applied to a Master of Computer Science degree, depending on the rules each program follows.
Graduate students who sign up for certificate programs can make themselves more marketable as user interface designers, software engineers, software architects, or computer and information systems managers.
Many certificates have requirements for admission to certification courses and tests. This might mean that a professional will need to have earned a bachelor's or master's degree, and they may need to have a certain number of years of experience working in the field. This is part of why it is so important to earn a formal education, even if you start out learning through experience and are self-taught.
Potential Careers for Software Engineering Graduates
---
Software Engineer:
At the bachelor's level, software engineers may write algorithms, request project requirements, write code, test software, work on deployment or maintenance, and more. Software engineers may start out in the IT department and earn higher responsibilities as they gain experience.

Business Information Analyst:
This software professional uses computing expertise and business knowledge as they translate the needs of a business into technical solutions. Analytical skills support their work.

Cyber Security Manager:
Cyber security is an understaffed field at this time. Cyber security managers run teams that monitor computer network systems and ensure that financial transactions, passwords, and personal correspondence remain private. Government agencies rely heavily on security engineers to prevent hacking or corruption.

Software Architect:
This role is best for a software engineer who can see the big picture. This means creating and transforming a plan and its requirements into something that can be programmed and attained.
Salary Expectations
---
The average annual salary of a software engineer with a bachelor's degree is $88,000. In their early career, this may start out closer to $64,000 and their late-career annual income may reach $130,000.
Employers looking for software engineers may hire candidates that hold a bachelor's degree in software engineering, computer science, computer engineering, or a closely related field as long as they hold appropriate certifications and can prove that they have the ability to perform expected functions. Candidates should be able to show their practical experience in coding, design, and other job-specific requirements.
Find Your Online Software Engineering Program
Software engineers often work closely with designers or whole design teams to bring together several program functions into one unit. They'll also work with coders and programmers as they work to create a fully-functional piece of software that performs the tasks required. The engineer works to plot out areas of the automated tasks that may be necessary. They also use design documentation and flowcharts to picture the process.
Outlook
---
Under the umbrella of software developers, quality assurance analysts, and testers, the software engineer job outlook is bright. Between 2020 and 2030, this career is expected to grow by 22%. This is much faster than all other occupations.
Software engineers who develop applications may see an employment increase of 26%, and those specializing in systems software may see an increase of roughly 10%.
In job openings, this works out to approximately 189,000 positions for these professionals throughout the decade. Much of this is due to attrition, as senior software engineers retire or leave the field, resulting in the need for organizations to replace each departed worker.
Industries hiring software engineers include various insurance carriers, such as medical insurance, the healthcare field, Silicon Valley startups, and many more. Each of these industries need new, innovative software to handle health insurance policy enrollments, administration of existing policies for customers, creating proprietary software for new companies as the need arises, and more. As more and more people begin to use or expand their use of these digital platforms, the demand for software engineers and other technological professionals will continue to increase.
Software engineers also work on new applications on mobile devices, such as tablets and smartphones, which adds to the demand for these professionals. Software engineers and other related professionals may also take advantage of new opportunities due to the continuing increase of products requiring software, such as in the growing Internet of Things. Vehicles, appliances, and smart homes are all being built with computer systems installed. Continuing threats to computer network security may also result in the development of new security software to protect electronic infrastructure and networks, making it more likely that software engineers will be able to find employment as cyber security professionals.