You should always strive to understand what student loans are and what you're obligating yourself to before you begin applying for them. For one thing, you're going to have to start paying them back right away; with private loans, repayments start immediately, on interest at least. With federal loans, you have an option to begin paying interest only as soon as you have the loan. Sometimes you'll have the option to wait until six months post-graduation to begin paying this each month.
Interest rates and fees are also considerations you should take into account before applying for a loan. Finally, don't take out too much money. You're going to have to pay it back and life may get in the way. If this happens, you may not be able to make the payments. Depending on the source of your loan (private or federal), you may have options if something like this happens. However, you should always apply for grants, scholarships, and fellowships before you turn to graduate loans.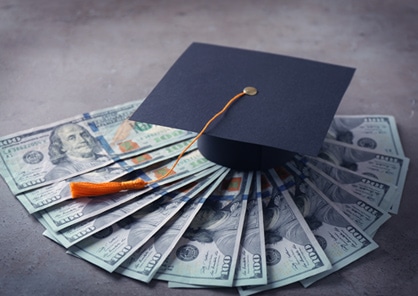 What are Graduate Loans?
Graduate school loans are either federal or private student loans. You obtain these loans from two different sources (the Department of Education or a bank or credit union).
Federal student loans are further broken down into two other categories: unsubsidized Stafford loans and Graduate PLUS loans. These loans also often require an origination fee, which means the amount you receive will be lower than what you actually borrowed. The Graduate PLUS loan requires that you have a good credit history; fill out the Free Application for Federal Student Aid (FAFSA). The origination fees here tend to be higher.
Private student loans don't come from the federal government. These are issued by a private financial institution. The interest rates may be either fixed or variable depending on which loan company you choose.